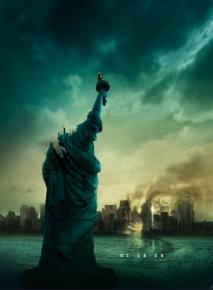 Just a couple of minutes ago the team behind J. J. Abrams' mysterious movie known as Cloverfield/Slusho/01-18-08 took the stage of the 2007 Comic-Con in San Diego and they revealed some info about the mysterious movie that went all Internet and movie addicts into a viral marketing (including me).


"I want a monster movie, I've wanted one for so long. I was in Japan and all he wanted to go is to toy stores. And we saw all these Godzilla toys, and I thought, we need our own monster, and not King Kong, King Kong's adorable. I wanted something that was just insane and intense. It's almost done shooting and I watch dailies and I'm more excited for them. We have 6 months before this comes out. We're going to have a whole bunch of things, a whole bunch more."

"You think we'd call it Monstrous? No…"
This is what J.J. Abrams said in the 2007 Comic Con in San Diego according to
Alex

Billington
from
Firstshowing

.net
. Also J.J. revealed the first poster of the movie, and yes it is exactly like that one
that some guy took a

snapshot

from a store in California
some days ago and has been
spreading
all over Internet, but without the title, so it's remains unofficial if the movie title is "Monstrous".
But one thing has already been confirmed, it is a Monster Movie, and not a remake, is a brand new kind of monster, but very in the same style of the Lost smoky monster if you ask me about.
Hey, what about if they start a contest which anybody through Internet could decide the name of the movie, that would be interesting, well, at least for us, maybe not so much for
Paramount
.
Poster image courtesy of Paramount Pictures.
"Content reserved. You are granted to copy and publish the content of this article in part or its totality without modifying its structure and/or content and quoting the author"